© Lars Haugaard, Aarhus University, Denmark
Ruminal Heart Rate/ Temperature Data Logging System (FIWI)
Operation Overview:
The main system components of the Ruminal Heart Rate/Temperature Data Logging System are the Ruminal Implant Transmitter (RIT) and the Collar Data Logger. The RIT is placed inside the rumen and records raw heart rate based on heartbeat vibration during low activity periods of the animal and rumen temperature. The heart rate and temperature data are transmitted to the Collar Data Logger inside the battery pack in predefined intervals, using a short-range UHF radio data link.
The download of the stored data sets is possible via direct USB cable connection to the computer or with an additionally available RumiLog Base Station via a UHF data link to the Collar Data Logger.
For the interpretation of the downloaded data files in particular the heart rate values, a special designed filter program (https://rumina.fiwi.at/) free accessible via internet must be used.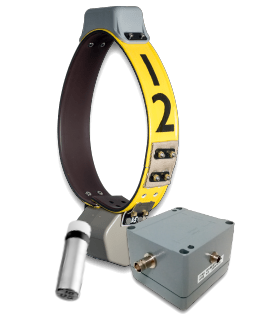 Ruminal Heart Rate/ Temperature Data Logging System (FIWI)
Collected data sets
raw activity
head down time, head up/down changes counter
collar temperature
body temperature
raw heartbeat vibration
Post Processed Data
ruminal heart rate
temperature
processed activity data
csv formatted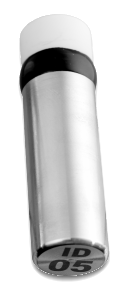 stainless steel/ceramic tube
highly sensitive acceleration sensor
digital temperature sensor
Dimensions: length 68 mm, Ø 19 mm, weight 75 g
Heart Rate:

scan time 180 s
scan interval 6, 9 or 12 minutes
detection range 15…150 beats/minute

Temperature measurement:

interval 180 s
range 0…50 °C
resolution 0.0625 °C
calibrated accuracy 0.1 °C

Lifetime: 1-3 years, depending on configuration
Wireless UHF data link: transmission interval 180 s
integrated in the collar's battery pack
synchronizes automatically with its corresponding RIT
data stored in the onboard nonvolatile memory
data download via

via USB cable connection to windows program RumiLog
via UHF data link to RumiLog Base Station

Measurement interval: 180 s
Activity measurements:

animal activity
head down time
head up/down changes counter
Temperature measurement

resolution 0.0625 °C
accuracy 0.5 °C

Storage capacity: 64 MByte
Lifetime: 2-4 years, depending on configuration
USB powered
communication range:

up to 200 m with UHF YAGI antenna (optional)
only short distances with whipped antenna

Function:

switch the RIT On/Off
check RIT function
download status and data from collar data logger
free Windows software:

direct connection with Collar Data Logger
direct connection with RumiLog Base Station
for data download and change of settings
upload of raw heartrate data
result: post processed data of ruminal heart rate (csv formatted)