Power Control and Distribution
VECTRONIC Aerospace offers a range of space borne power systems designed specifically for small satellite applications. The PCDU provides power to the spacecraft subsystems and payloads which is drawn from the battery and/or from the solar array.
All models contain battery charge- and discharge regulators, adaptable to different type of batteries e.g. NiCd, NiH2 or Li-Ion technology.
With the experience of currently 8 Power Control Units in Orbit, VECTRONIC Aerospace has the knowledge to offer a design which is exceptionally reliable and efficient in terms of mass, volume, power and performance.
More Information...
The PCDU monitors solar array, battery and load performance and switches individual subsystems either in response to a telecommand or automatically in the event of an overload or short-cut condition. An overload and inrush current can be defined individually for each single load.
The Power Control Units are available with different number and combinations of switched and unswitched power outlets in different output voltages to meet specific application requirements.
The electronic boards include thermal and over voltage protection circuits.
The unit comprises redundant modules to enhance reliability. Furthermore interfaces to external microswitches, to umbilical lines and to EGSE are implemented as well as quite a number of digital and analogue I/O lines.
The signal interface consists of a dual standard asynchronous SCI on RS422/RS485 level. It can be used in a single full-duplex configuration as well as in a bus architecture. The baud rate is adjustable up to 1Mbaud.
An HPC command interface is available on demand.
VECTRONIC Aerospace offers with the VPCDU a highly integrated device to control the power supply of the subsystems of a small satellite. The VPCDU incorporates interfaces to solar arrays and batteries, power outlets to the satellites subsystems, functionalities for separation detection micro switches, under voltage lookout, battery handling and power conditioning. The power outlets to the satellite's subsystems are equipped with resettable electronic fuses to prevent the system from damage in case of an overload or malfunction of external devices. Most of the internal functions are controlled by a micro processor unit in redundant configuration.
Highlights:
3 independent interfaces to solar arrays with wide input voltage range up to 60 V
1 auxiliary power supply interface for operation of the device in a laboratory
3 independent battery charge regulation channel with adjustable charge voltage
Battery under voltage detection and battery end of discharge protection
Over and under voltage protection circuit
2 cross-coupled full duplex RS422 interface for common commands with adjustable rate up to 460800 bps
2 not cross-coupled full duplex RS422 interface for High Priority Commands with adjustable rate up to 460800 bps
48 analogue inputs with adjustable gain
7 digital inputs for open collector circuitries
27 resettable fuses
52 high side power switches
2 bistable relays
Precise measurement of external and internal sensor currents and voltages (e.g. sun sensors, temperature sensors, analogue voltages)
Internal operation scheduler and mode controller
Time and function based autonomous redundancy control
CAN bus technology is optionally available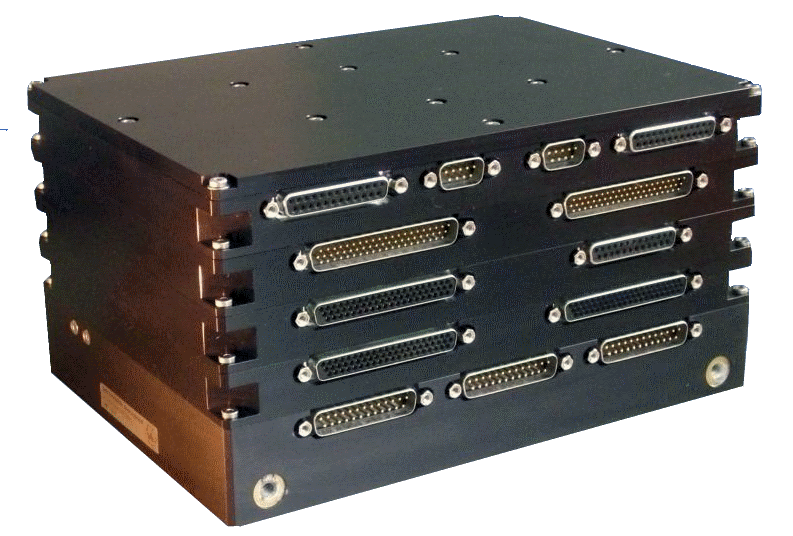 | | |
| --- | --- |
| Dimensions | 220 mm x 160 mm x 117.4 mm |
| Mass | 4.14 kg |
| Mounting pattern | 6 x M5 |
Standby Power consumption @25V

Auxiliary Supply

2.5 W (typical)
Solar arrays input voltage range
22.5 V to 60 V
Battery input voltage range
22.5 V to 36 V
Max. power input range (overall)
360 W
Max. power output range (overall)
540 W
Signal interface
RS422 / RS485 / CAN
Signal characteristics
Serial async. / CAN
Connector Type
SUB D & SUB HD
| | |
| --- | --- |
| Operating temp.range | -20°C to + 70°C |
| Storage temp. range | -40°C to + 80°C |
| Vibration | 20 g rms random 3 axis |
| Radiation tolerance | > 20 krad |