© Frances Cassirer – Idaho Dept. of Fish and Wildlife
The SOLEX Collar is the first wildlife collar with flexible solar panels impregnated into the collar belt, allowing it to be powered solely by solar energy. It is designed to provide enhanced battery life and longer field deployment in a lightweight and environmental friendly collar design.
Flexible Solar Panels: The flexible solar panels harness solar energy to recharge the collar's batteries, providing a sustainable and renewable source of power. This means you can potentially enjoy unlimited battery life when there is adequate sunlight.
Smart Power Technology: The SOLEX Collar can automatically increase the logging of GPS data points depending on the available sun light.
Lightweight Solution: The absence of conventional lithium batteries results in a lightweight design, making the SOLEX collar a responsible choice for various species.
Reliability and Efficiency: The SOLEX Collar was field tested for over two years. It is designed to maintain the reliability that you expect from a high-quality GPS collar. Using two independant dual antennas, the collar provides faster and more energy efficient satellite communication.
Environmentally Friendly: By harnessing solar energy, the collar reduces its environmental impact and dependence on traditional disposable lithium batteries. A long lifespan is making the collar also an environmentally responsible choice.
Dual solar panels
Up to 100 GPS positions/day
250K stored GPS locations
Iridium communication
Data access via INVENTA
Basic 3-Axis Activity Sensor recording pre-processed data
Mortality Sensor
Temperature Sensor
VHF Beacon
Remote radio or timed Internal Drop Off
Cotton Layer
UHF-ID Tag
Round and oval collar shape
Collar circumference: 40-120 cm
Bottom housing: L 7.9 x W 4.9 x H 5.2 cm
56 cm collar = 450 grams
Belt width: 50mm
SOLEX release
Video credit: Native Range Capture Services & University of Nebraska- Lincoln, Applied Wildlife Ecology and Spatial movement Lab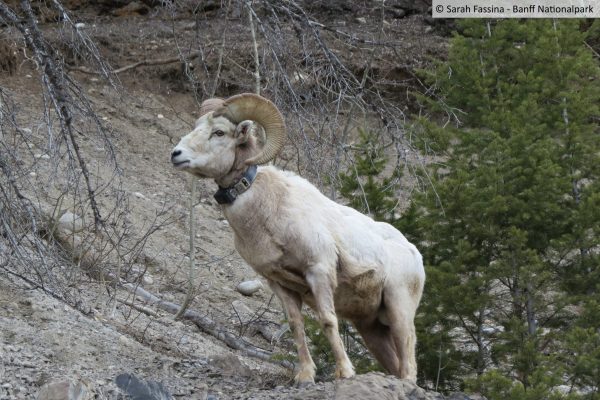 © Sarah Fassina – Banff National Park